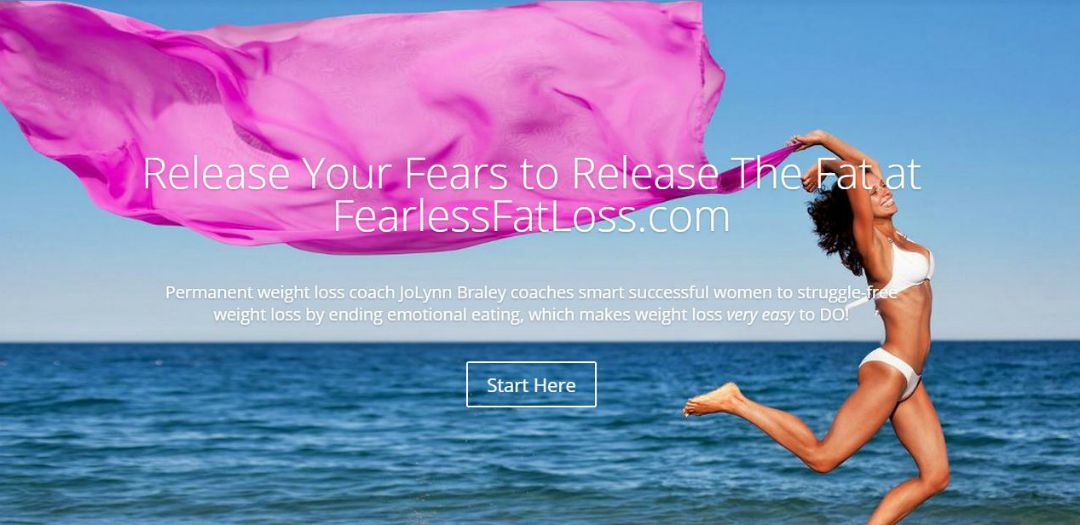 Welcome to Fearless Fat Loss! With Permanent Weight Loss Coach and Mentor JoLynn Braley
Welcome to Fearless Fat Loss with permanent weight loss coach JoLynn Braley! JoLynn is the founder of The Inner Self Diet™, the proven, step-by-step coaching system to permanent weight loss from the inside out. What does "from the inside out" mean? It means this: If you never heal the root of your fat behaviors and fat mindset then you will always struggle wtih food and your weight. Simple as that!
The Very Good News is that JoLynn's coaching clients in The Inner Self Diet achieve struggle-free weight loss that lasts because they do the proven steps that heal the root of their emotional eating, binge eating, stress eating, mindless eating, food addictions and self-sabotage.
JoLynn's coaching clients are smart, successful women (and a few cool men!) who have already achieved success in their professional lives (proving their emotional eating is NOT about intelligence or laziness) but they have never achieved the results of struggle-free weight loss on their own. They do what all smart, successful people do: they recognize that they have a problem, they need help to solve it, and they hire a highly skilled professional coach to help them solve their problem.
All highly successful people have had coaches to help them get to where they are, and they have coaches to help them get to their next level of success in life! The smart ones on the planet know that the quickest and easiest way to get to where they want to go is by getting a coach in their corner who has the proven system and the proven track record to help them succeed in making weight loss the easiest thing they've ever done.
Permanent Weight Loss Benefits
There are unlimited Benefits to Permanent Weight Loss since it impacts every single area of the individual's life. Just imagine, if you felt absolutely wonderful about your body, about your weight, about your relationship with food and YOU and you carried that feeling with you into the boardroom, into the bedroom, or into the back yard…just how would that transform all of your life experiences?
Is there any area of your life that you do not take your mind and body with you?
Following are the Top 10 Benefits of Permanent Weight Loss that JoLynn's clients receive from her mentoring them through her step-by-step proven System:
Struggle-free weight loss.
Dropping the fat and keeping it off!
The end of self-sabotage.
Releasing their Fears – fears of failure, fears of success and any other Fears that have been stopping them from achieving permanent weight loss.
The end of compulsive overeating, binge eating, and out of control eating.
Enjoying exercise – for some it's the first time in their life!
Building a healthy relationship with themselves, their body, and with food.
Deprivation-free living!
Taking Control – of their Mind and their Body.
Gaining trust in themselves, their decisions, their body, and life.
JoLynn's clients no longer say the words, "I can't stop eating" because those old patterns are no longer a factor.
Additionally comes increased self-confidence, self-esteem, self-worth, and the full surety and focus that allows them to release their excess fat with ease. All of which positively impacts their relationships, finances, and spiritual growth.
Permanent Weight Loss Testimonials
Following are some of the permanent weight loss testimonials JoLynn has received as feedback on her step-by-step proven System to permanent weight loss.
[quoteRotator title="What People Are Saying – Permanent Weight Loss Success Stories" delay="10″ fade="3″ fadeout="3″]