Fit News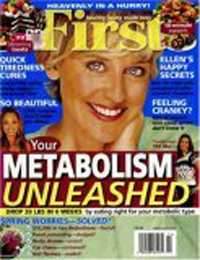 6-Week Body Makeover Success Stories: I can't tell you the last time I bought a women's magazine but here's a really cool story that I want to pass along to you – in the April 7th issue of First Magazine
, they will be featuring a handful of successful 6-Week Body Makeover losers! I don't know about you, but this is one magazine that I'm watching for on April 7th!
Eating your Broccoli? Here's a study from researchers at UCLA who believe broccoli contains a chemical that can boost your body's immune system and at the same time fight free radicals that contribute to aging. What's great about this is if you're following the 6-Week Body Makeover plan, broccoli is considered a "free food", which means you can eat as much as you like at mealtimes. I like to eat my broccoli hot from the steamer, how about you?
FitLinking
Resources for Motivation: Shelley at Work At Home University posted a great list of resources you can use to get some motivation and movement towards a healthier lifestyle. The one that impressed me the most was at the tip top of her list – Lifeskool, which offers free on demand tv, online! It made me think about all of you who may be traveling for business with your laptops – you could plugin in your hotel room and after coming here to read the latest at Fearless Fat Loss 😉 , you could go to Lifeskool and workout. This means you don't have an excuse if the workout room is full.
You can also plugin your laptop to your TV and see the video on the full screen. I'll be using this site myself for some variations in my workouts, how fun (and free!) is that!
Breakfast of Champions: I'm still surprised when I hear folks who think that the way to lose weight is to skip breakfast, in fact I often hear this when I tune into Richard Simmons on Sirius for some Sunday motivation and inspiration. Actually, skipping breakfast to lose weight is the worst thing you could do for your metabolism.
Check out this article at MizFit for the full breakdown on just why breakfast is your most important meal of the day – I know for myself, I just couldn't get along without it. 😉