If you're committed to living a healthy lifestyle filled with whole foods and regular exercise, unless you're going raw (eating only raw foods), then it means that you're going to be doing some cooking.
If you're like me, you either don't want to cook every day or you don't want to take the time to cook every day. However you'll have to take the time to do your cooking at some point, so when is the best time to do it?
Cooking doesn't have to involve a lot of time, it just depends on how you go about it. It also doesn't need to be overwhelming, even if you've never done it before.
My Life was Filled with Processed Foods
When I first started the 6-Week Body Makeover in 2004 I had been eating only processed foods for years. My meals consisted of blocks of cheese, frozen low-fat meals (now I know those are filled with MSG), and a ton of sweets. I ate whatever tasted good (sugar, MSG, unhealthy fats, excess sodium) without a thought for my weight, nutrition, or my health. Sounds really healthy, huh? (LOL)
I was never really into cooking, but I did bake sugar-filled desserts, I loved doing that. The extent of my cooking though consisted of boiling water, adding spaghetti, and heating up a jar of sauce. Oh, and putting a foil covered loaf of frozen garlic bread in the oven. Yep, super healthy, and this way of eating got me to my top weight of 171.5 (I'm 5'4″ tall – a lot of weight on my small frame) and gave me a lot of low energy and negative thinking. I was pretty much existing day by day.
My Effective, Simple Formula for Scheduling My Whole Foods Cooking
Since I learned how to cook back in 2004, I've also learned how to maximize my cooking efforts. What I do is cook in bulk. It takes just about the same amount of time to cook a meal that would feed me for one or two days as it does to cook enough for 5 days (or more – I can always freeze). Now I'm cooking only for myself, so if you're cooking for your whole family you can get them involved to help you. Here's exactly what I do to get my cooking done for the week:
A Typical Sunday
Normally I do my cooking for the week on Sunday. I have a fun routine that I look forward to, here's what I do:
Turn on Richard Simmons on Sirius Satellite radio. – I get a huge dose of positive motivation listening to Richard Simmons and look forward to his show each week. I can listen to the replay of the previous week's show from 12pm – 3pm EST and at 3pm his live show airs until 6pm, when it then replays. Richard also advocates staying away from the processed foods and I've heard him say that he cooks in bulk for the week, too.
Print out the recipes I'm cooking and put them on the frig with a magnet. – I already have a bunch of recipes printed out from the wealth of free 6-Week Body Makeover recipes and I either pick out a favorite or I find something new. I also have the 6-Week Body Makeover cookbook and I use those recipes, too (they aren't available online). I love the food I eat, and as long as I take action and get cooking, I don't get bored (very important for me).
Prep and Cook! I get cooking while I'm listening to all of that great motivation from Richard Simmons on the radio. If you follow me on Twitter, you already know that I grilled Mahi Mahi 3 ways yesterday. I also grilled a bunch of plain chicken breasts. Last night I did the prep for one of my favorite 6-Week Body Makeover recipes Shrimp Scampi, and I just need to finish that up.
Cooking in Bulk = Major Preparation
By cooking in bulk, I have absolutely no excuses for staying on plan. I've got food prepared and ready to go, and the next step after cooking up all of this great food is to get out my scale and portion out my meals (yep, portion control is a component of successful weight loss). My best friends are Ziplok and Gladware plastic containers and Ziplok sandwich bags. I also have a trusty soft sided cooler that will hold a full day's worth of food that is super easy to take to work.
Do You Want It Bad Enough?
To me, this healthy lifestyle is a routine now, but is wasn't when I first started learning how to cook. I still remember my very first meal with the 6-Week Body Makeover – tilapia I made on the stove with some Mrs. Dash seasoning. I had that for breakfast, I was so excited. I sure don't eat tilapia for breakfast now, but that's what I did on that Saturday in January, 2008, and it started me on my weight loss journey of 43.5 pounds.
What About Today's Progress?
I don't have much to report for today because I didn't prepare very well last week. Yes, as we all know, you get out what you put into something, and I did not put very much into my routine last week. While I didn't gain weight I also didn't lose weight (still at 147), and just because I didn't dive back into my old ways with processed foods, the way to lose weight is to eat and eat often. If I don't stay on top of eating my healthy foods every 2.5 to 3 hours and also get in all of my exercise (which I didn't last week), then I'm not going to get the results.
But that's in the past, and as long as I don't dwell on it and I make changes then I'm doing just fine. I put a lot of effort into getting prepared for the week with all of the cooking I did on Sunday, and I just need to schedule my exercise better.
Wanna See Some Pics?
To sum up, here are some pics I took of the cooking I did yesterday. Like I tweeted about while I was cooking, I made Mahi Mahi 3 ways but if you didn't see my tweet (why not? 😉 ), here are the recipes I made:
I took progress photos of everything I made on Sunday and below are the progress pics of the Grilled Mahi Mahi recipe – this is so simple that it's just….simple!
Before: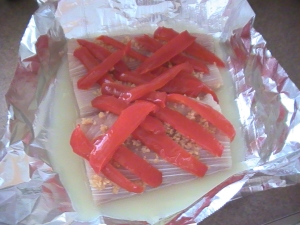 Cooked: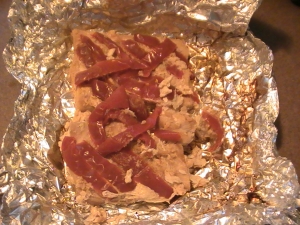 And into the Gladware they go (not my final portion sizes here):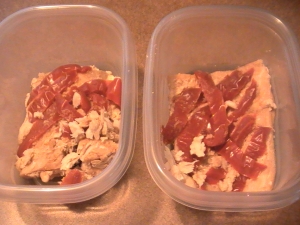 So that's what I do, usually on Sundays, and then I've got a bunch of whole, healthy meals to eat for the week. The next step is portioning them out for my individual meals, and sometimes I'll even portion them out and freeze them for the future – that's called being super prepared!
Oh, and all 3 of the Mahi Mahi recipes I made were new recipes for me and they all taste wonderful. I'd have a hard time picking a favorite but if I had to, I'd have to go with the Mahi Mahi with Roasted Pineapple-Ginger Sauce. Again though, it's a hard choice to make. 😉
Comments
comments