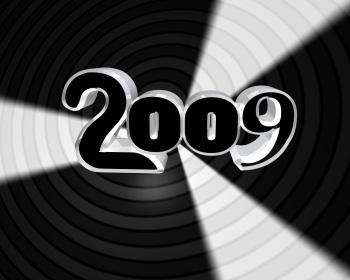 Happy New Year 2009, woohoo!! Here we are in a brand spankin' new year… wow, 2008 sure did fly by, didn't it?
So here's my question for you today – did you accomplish your fitness goals that you set for yourself a year ago? Did you lose the weight, increase your upper body strength, strengthen your thighs, tighten, lift, build up your glutes, decrease your knee pain after dropping those pounds, and gain some energy along the way?
How about your clothes – are you wearing a smaller size? Did you pick out a great outfit for your New Year's party, something that you wouldn't have been able to fit in to a year ago? Have you almost become addicted to your physical fitness routine over the past year because you feel so good after your workouts?
Uh, Is This a Time Warp??
Ok ok, you're a little confused, I know. Today is June 2, 2008, not January 1, 2009…but what if it was?

We're already halfway through the year and before you know it we'll be in the holiday rush. Therefore, if you have some work to do in the area of health and fitness, think about this:
If you don't take action today then you just might find yourself very soon saying, "I'll change my ways after New Year's".
Yep, millions of people say it every year, but how about taking charge now and making some small lifestyle changes for yourself today? Just think of how far you could be 6 months from now – you could have already met your goal or at the very least be much closer to it than you are today. 😉
No Excuses Allowed at Fearless Fat Loss
Since we are halfway through the year I am officially declaring this No Excuses Week at Fearless Fat Loss. Now if you're doing just fine then you can stop reading now but if you're like me and you haven't yet met the goals you set for yourself 6 months ago, then come along with me and let's start sweeping away those excuses.
What Excuses?
That's right, we're sweeping away excuses this week. Excuses are those reasons we give ourselves for not doing what is best for us, but if we give into them then we just aren't going to reach our goals. So this week at Fearless Fat Loss is all about knocking out some excuses so that you can get moving today and with each step get a little bit closer to your goal weight and fitness level that you've set for yourself.
Making Excuses to Move?
So let's get moving (lol, good pun) with shooting down an excuse today. How about this one:
I know walking is good for me and it's the easiest way for me to get a cardio workout but I don't have anywhere to do it. I don't have a treadmill and I can't go outside because:
A. The weather is too (hot, cold, rainy, sunny, etc.)

B. The neighborhood is too (empty, filled with people, unsafe, boring, loud, quiet, etc.)

C. It's too late, too early, too dark, too light, etc.

D. I don't want anyone to see me.

E. E is for etc.! 😉
Ok, so you've got some excuses for getting in your daily 30 minute walk and I've got a solution for you, something that is very inexpensive and the only requirements are a TV, DVD player and a good pair of walking shoes. In fact, I've been doing this myself for a change in my cardio routine.
I'm Doing It, You Can, too!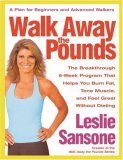 I've been using Leslie Sansone's Walk Away the Pounds
to change up my cardio routine this past week and I've gotta tell you that I really like it. It's simple and easy and I think it would be a great way for someone who isn't a physical fitness guru to start exercising because you definitely don't have to be one to use Walk Away the Pounds. I've tried other cardio workouts before and I've felt like I needed a dance class to keep up – not so with WATP.
It's also an acceptable cardio option for the 6-Week Body Makeover plan as long as you stay within your target heart rate zone (you don't work out super hard with the 6WBMO, you just work out smarter).
So far I've used the DVD that comes with the book Walk Away the Pounds
however I have 4 more DVDs on order. The DVD in the book is approx. 15 minutes long and it is a one mile walk – since I workout for 30 minutes I simply start the DVD over again to total 30 minutes.
A Simpler Way to Walk
And certainly if you don't want to purchase the Walk Away the Pounds DVDs
you can simply get a move on outside and walk non-stop for 30 minutes, or if you haven't exercised in a long time just do 5 or 10 minutes to start. Sometimes starting is the hardest part so the most important thing is that you drop the excuses you've been using to keep yourself from becoming the stellar self that you can be. Why not decide to go for it now so that you don't look back 6 months from now and wish that you had? 😉
Tune in tomorrow when I sweep away another excuse for you so that when New Year's comes you'll already have 6 months invested in your healthy lifestyle habits and be well on your way to reaching your weight loss and fitness goals.
Comments
comments