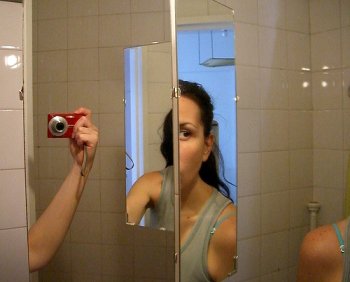 Ok, here's something for you to do today: drop your clothes and get naked in front of a full length mirror (yeah, wait til you get home, don't do this at work, lol).
Serious?
Yeah, I'm completely, 100% serious. I mean, answer me this: do you or do you not want to look great naked?!
Seriously – you're living here on this Earth in your marvelous physical body, and I'm going to bet that if you haven't been taking care of that body of yours that you're not jumping for joy at the thought of getting naked in front of that full length mirror today.
New Year's was Two Months Ago
Wanna know why I'm asking you to do this today? Because today is March 2, 2009 – we are 2 months into the New Year and if you made any kind of New Year's Resolution or commitment to yourself 2 months ago that you were going to lose weight and get fit and you haven't made any progress, then now is the time to do something about it. Two months ago "do it now" could have amounted to a 16 pound fat loss by today, if you were doing it the healthy way. 

Remember, I wouldn't suggest that you force yourself to change but I do know the power of inspired action and there are many ways to inspire yourself to act. Before you'll find that inspiration though, you've got to get real and get honest with yourself, and oftentimes you will avoid mirrors and even looking at yourself fully clothed because you want to maintain an image in your head of how you used to be.
Well all change begins with the full awareness (consciousness) of where you are today, and if you're hiding from yourself, getting naked will open your eyes.
Awareness, Not Criticism
Hey, this isn't an exercise in berating or criticizing yourself either – you are where you are and that's ok, but even though that's an awesome affirmation and it will help you love you today, don't you want to make healthy changes and get fit? Isn't that the direction that you wish to head?
Ok then, this serves as your friendly reminder that today is the day to get naked and get real with yourself – not only naked as in your body, but also naked and real in your mind and emotions. If you cannot be completely honest with yourself then how can you possibly move forward? How can you treat yourself with love and respect and healthy actions that will create that fit body you want for yourself if you keep telling yourself that "it's not that bad"… when it really is?
All change begins now – not tomorrow, or next Monday (hey, today is Monday! 😉 ), or next year – it's all now. And you cannot tell me that telling yourself that you'll do it tomorrow has worked – you're talking to someone who has been there and done that, and nothing changes until you claim your personal power, step up to the plate, get real with yourself, and take action that's inspired from within…NOW.
And yes, you can gain inspiration in many ways, and just maybe you'll find that your inspiration comes today in the form of seeing yourself as you really are today in that mirror.
It All Starts Now
You've gotta see yourself to accept yourself and then change yourself. Why not make this your day that will be the day you look back on and claim as the day you stood up for you by becoming your own best friend. The day that you got naked and got real with you.
I think that sounds like a much better plan than standing in front of that mirror 10 months from now on January 1st and saying that you're going to "do it" then. There are 43 weeks left in 2009 and if you only dropped 2 pounds a week you could be 86 pounds lighter by December 31, that is if you have that much weight to lose.
Now that's something to get real about today if you have 100 pounds or more to lose, isn't it?
Photo by TheAlieness GiselaGiardino²³
Get Naked, Get Real, Lose Weight
Comments
comments