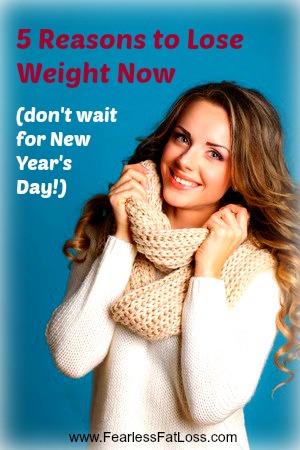 Wouldn't you Love to lose weight Now instead of continuing on with the struggle for another Four Months?
Of course you would! If it means it would be easy, and that you would still get to have your favorite treats during the holiday season!
Only 18 weeks left in 2014!
But what most do is tell themselves this: "I'll go all out during the holidays, eating whatever I want, and then I'll lose weight starting January first!"  After they've gained another 10 plus pounds during the holiday season!
Hmm…. have you ever achieved struggle-free, permanent success with your weight by taking that route?
If you're like most, your answer to that question is "NO".  (I know how it feels, I've been there, too!)  And what's really exciting is that you don't have to keep living like that.
You can make weight loss easy and even lose weight during the fast approaching holiday season, when you do The Inner Self work that is necessary to get a weight loss mindset.
That is the work that I do with my exclusive coaching clients in my proven, step-by-step system, The Inner Self Diet. Click here to read what Graduates have to say about their struggle-free weight loss success!
On top of their inspiring success stories, we'll also take a look at 5 reasons for YOU to lose weight now, instead of waiting until New Year's Day. Why? Because you have an exciting opportunity to make positive progress with your weight right now! Read on to understand what I mean:
Heads Up!
As of today, you have just 17 weeks and 3 days until Christmas Day, or 18 weeks and 3 days until January 1, 2015.
What this means:  You could be 36 pounds lighter on January 1, 2015 if you were to begin living a healthy lifestyle TODAY. That would work out to be a healthy 2 pound release per week, if you were to make the change to a healthy lifestyle immediately.
And sure, what makes it super easy to live a healthy lifestyle is a weight loss mindset, the same thing I speak about incessantly on The JoLynn Braley Show.
What's interesting is this: Since it's So Easy to learn How to eat healthy and live a fit lifestyle (you can get healthy diet and exercise info at the public library!) why doesn't everyone DO it?? Since it's So Easy to get that FREE healthy living information, then why are more than 78.6 Million of US adults obese?
The reason that 78.6 Million in the USA don't lose weight and keep it off for life (without struggle!) is because they do not have the right mindset.
Mindset is 90 percent of making weight loss EASY to DO. Without the proper mindset it's very easy to keep overeating, and stay overweight.
This is why I do the work that I do with my coaching clients in The Inner Self Diet. I am a weight loss mindset expert, and the work I do with my awesome clients is what makes it easy for them to take action with the diet and exercise steps they already know how to do (who doesn't have reams of info on healthy diet and exercise, right?! Again, you can find any of that info at the public library….but it's extremely difficult to implement the healthy lifestyle without the right mindset….)
Now let's look at five reasons to lose weight NOW instead of waiting for the New Year to come. These reasons may help you get inspired to make core changes within your Inner Self today, so that YOU will have a very easy time of living healthy and fit! As you know, there is No Magic when it comes to weight loss. Living a healthy lifestyle is the cure for your fat, but it's very hard to live that lifestyle when your Mindset is Fat!
5 Reasons to Lose Weight Now Instead of Waiting for New Year's Day
1.) You will look better in your beautiful holiday outfits!
How much more FUN would this year's holiday season be if you were to Love how you look in your clothes?! Not to mention the basic feeling of Feeling Good in your own skin!
In order to have these Results, you must start today to lose weight now. You can make it super easy to lose weight by getting a weight loss mindset (your mindset is 90 percent of what's been stopping you!).
2.) You will feel better about YOU as you go into the New Year!
You will have already established positive, healthy momentum as you begin your New Year, as opposed to doing what 98% of people do: they have a negative, unhealthy, overeating momentum going full-speed throughout the holiday season, and then they attempt to stop that fast-moving momentum on New Year's Day.
There's a reason that the same 98% have already quite the gym by January 15th each year! It's much much easier to keep going with healthy, positive momentum that you begin today and carry through the holiday season, on into the New Year! And of course, mindset is Ninety Percent of the game of weight loss, IF you want it to be EASY to live a healthy lifestyle and lose weight today!
3.) You will feel more confident about yourself while you socialize at your holiday parties!
Imagine feeling fantastic in your own skin while you are at those holiday gatherings. Feeling so confident about YOU and your abilities in your life. Yes! Your overweight is only a symptom of much deeper life issues, and when you get a weight loss mindset so that weight loss becomes easy, that healthy mindset impacts every area of your Life!
4.) You will have more stamina and energy to get out there on Black Friday and shop!
Not only will you have more stamina and energy to shop on Black Friday but also you will have more energy to Live Your Life!
Weight loss is not just about weight loss – it's about all of the WHY's you have for losing weight. Isn't one of your weight loss WHY's that you can Live Your Life boldly with passion? That requires Energy doesn't it. How in the world can you have passion, energy and interest in your Life when you feel so sluggish in your body?
5.) You will have True and Genuine holiday cheer!
Most think that there are more suicides during the holiday season than any other time of year. I don't expect that this is where your mindset is lingering, but of course I have NO idea who you are (true!). Unless I work with you as a mentoring client in my exclusive, proven system to permanent weight loss The Inner Self Diet, you could be an alien from another planet for all that I know! There's simply no way for me to know who you are as you read these words right now.
With that being said, it is a fact that your MIND rules your body, and your life, and it's your MIND that determines how Good you feel (or how Bad you feel) during the holiday season. How much easier would it be for you to feel Good if you were living IN a body you love?
The only way to GET that body is to start right now. (Yep, waiting until Monday doesn't work, does it. You've proven that to yourself over the last 10, 20, 30 or more years!) What makes is super easy to start living healthy and fit NOW and what makes it easy to continue to live a healthy lifestyle for life.
Why would you want to make it easy to live healthy and fit for life? Because you don't want to lose weight and gain it back again, do you? No way! Who in the world wants to do that?!
The Easiest Way to Get a Weight Loss Mindset
The easiest way to get a weight loss mindset is to work with a highly trained mentor and coach who already has the road map put together for you! It's just like getting a new transmission for your car – you would never consider trying to do that yourself, would you. Of course you wouldn't! Not only do you not know how to do it, but also you know it would take you a lifetime to try to figure it out.
It's the same thing when it comes to getting a weight loss mindset so that you can lose weight and keep it off without struggle (yay!). It's just not something that you know how to do and you know it would take you a lifetime to figure it out. How do you know? Well… if you knew how to get a weight loss mindset and do it super quickly, then you wouldn't have a weight problem today, would you! (no, you wouldn't!)
To start on the path of easy weight loss by getting a weight loss mindset, simply apply for a complimentary weight loss discovery session. You will get to speak with weight loss mindset expert JoLynn Braley one-on-one on the phone and find out whether or not it's a good fit for you to achieve permanent weight loss in The Inner Self Diet.
This is for you if you'd love to stop asking yourself, "Why am I so smart and successful but I still can't lose weight and keep it off?!" Click here to apply now.
Go ahead and share this post with your friends on your favorite social media outlets! They'll love getting something different instead of the same old "eat this, don't eat that" diet information.
Leave your comments below to share your biggest Aha's from today's article!
Comments
comments