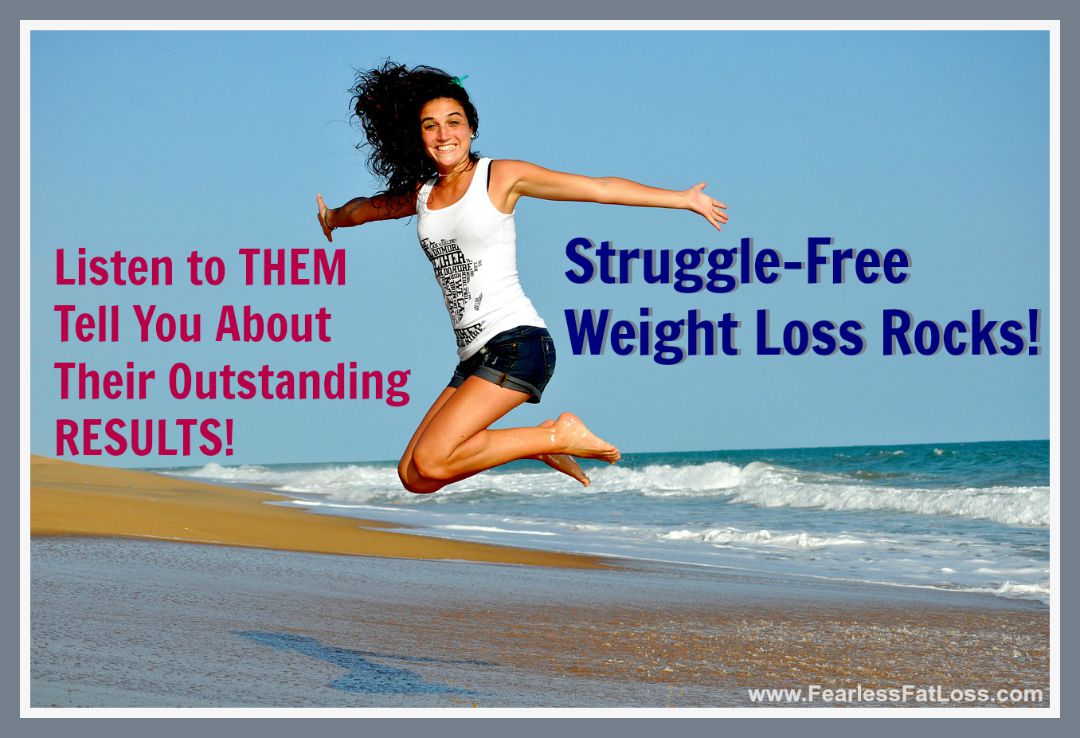 Struggle-Free Weight Loss Success Stories with Permanent Weight Loss Coach JoLynn Braley, founder of The Inner Self Diet
Yay! They Got Struggle-Free Weight Loss. So Can YOU!
Are you aware that if there is Just One person on this planet who has done what YOU want to do, that this means that YOU can do it, too?
Would you LOVE to finally release your lifelong struggles with food and your weight so that you can finally lose weight…struggle-free!
What if you could finally have a body that matches the success you have already created in your business life? How would you feel to finally have success with your weight, too?
They Are Thrilled About Releasing Their Food and Weight Struggles
In addition to the multitude of written testimonials JoLynn's coaching clients have provided on this site in order to help YOU believe that YOU can also achieve struggle-free weight loss success, a few of them are so excited about helping to Inspire you that they have recorded audio testimonials.
Yes, they took it one step further and really put themselves out there, just for YOU. Why? Because they know how bad it feels to be living in the struggle like you are right now…that back and forth struggle between the part of you that desperately wants to lose weight and the part of you that consistently sabotages you.
While they know how bad that feels (because they used to be there!) they also know How Good it Feels to be free of the struggle.
They know what it's like to exercise consistently just because they want to – no big deal, no struggle.
They know what it's like to eat sensibly and apply all of the healthy eating information they've collected through the years.  All of that information that taught them how to eat and exercise to get a healthy fit body, but in the past they could never follow through with.
They could not follow through to live a healthy lifestyle consistently prior to doing the proven steps of The Inner Self Diet because in the pas, they did not have a weight loss mindset – the essential key that they had been missing all along. Yes! Your mindset is 90% of what makes weight loss super easy to do, OR your mindset will make weight loss feel impossible when it's fat. A fat mindset will sabotage you every time – not good if you want to achieve lasting success with your weight.
Today the graduates of The Inner Self Diet know what it's like to finally be free of the pain of self-sabotage and self-criticism. Today they experience freedom from binge eating, emotional eating and yo-yo dieting.
Today JoLynn's coaching clients know what it's like to feel good about themselves and their body, while losing weight without deprivation, willpower, or struggle. They are living with all of the benefits of a weight loss mindset, some being surprising benefits that reach far beyond weight loss! (NOTE: You cannot leave your mindset at home while you go to work or to your business, can you. Your mindset goes with your everywhere, even into the bedroom!)
Click the Play Button on any of the audio players below to hear what these inspiring women have to share with you. You are guaranteed to relate to at least one of their past experiences of struggle and you will be inspired to hear that they are living the results that you have been craving for so long: the results that come from a weight loss mindset!
Click the Play Button on any audio player below to Listen In and Get Inspired by these Real-Life Women and their Struggle-Free Weight Loss Success Stories!
Barb Lost 50 Pounds Struggle-Free
Barb from Minnesota If you're looking for straight talk about The Inner Self Diet™ then Barb is the one to listen to. Not only was she skeptical initially she also will share with you how important it is to take the leap of faith and Just Do the Steps she did. After all, she got the results of releasing 50 pounds without struggle!
She Went From Depressed and Obsessed with Food to Joyfully Releasing 15 Pounds Struggle-Free
Laura S. from New Jersey If you've been following JoLynn for years now, listening to the wonderful successes of her inspiring clients, but you keep telling yourself that you can "do it on your own"…even though you are not getting struggle-free permanent results with your weight…then you've got to hear what Laura has to say about this!
Weight Loss Surgery Didn't Work – The Inner Self Diet Did!
Laura H., Cooper City, FL In the past Laura felt very frustrated because she'd "tried it all" and even gone as far as weight loss surgery. Surgery didn't work either because she did not have a weight loss mindset back then. Today she feels fantastic with her struggle-free weight loss and has released her past struggles with stress eating.
35 Years of Binge Eating and 20 Pounds…GONE!
Holly H., Bucharest, Romania and USA In the past Holly could not stop herself from binge eating. Nothing she did solved that painful problem for her until she worked with JoLynn. Today she is empowered on the inside with a weight loss mindset and has the Inner Self Tools to maintain her success.
From Food Addiction to 50 Pounds Lost – Struggle-Free with The Inner Self Diet
Lisa M. from Key West, FL In the past Lisa described herself as a food addict. Not anymore! Today she is free of those food obsessions and has already dropped 50 pounds…struggle-free. She feels fantastic and is excited about "Roaring from the top of a mountain!" to tell you all about it.
She's Doing The Happy Dance Each Morning While Struggle-Free with Food and Her Weight
Julie from Wenatchee, WA Wow, you've got to hear Julie tell it to you straight! This fabulous woman jumps out of bed each morning and does her "Happy Dance" but before we met and she did The Inner Self Diet she felt depressed and hopeless about her weight.
Not anymore! She's a true inspiration. Listen to her tell you about how good she feels today, that she's already released 8 pounds without struggle, AND she feels better today at 57 than she did as a teenager! No Excuses Julie is feeling fantastic in her own skin.
33 Years of Emotional Eating and Yo-Yo Dieting – GONE with The Inner Self Diet!
Kathleen from Colorado Kathleen struggled for 33 years with food, emotional eating, and up and down weight gains/loss prior to doing the steps of The Inner Self Diet™. Today she is free of that struggle.
NOTE: This audio interview was recorded over a year after Kathleen graduated from The Inner Self Diet™! She is proof that the Inner Self Tools work as she has continued to use them, to release 19 pounds without struggle, deprivation, or force, and to feel completely different. A new mindset, new body, a new life.
(Notice how calm Kathleen sounds. This is what KNOWING sounds like. She does not need to convince anyone of anything. She just IS. She lives struggle-free with food and her body now, without deprivation, struggle, or force.)
She's Down 2 Clothing Sizes Without Any Struggle
Kelli from the Midwest, USA Listen to another Real Person tell you about how she used to feel (before The Inner Self Diet™) and how she feels today.
Kelli went from feeling hopeless and depressed about her weight to feeling like it's No Big Deal. On her audio you'll hear her say that the biggest gift is that she no longer worries about her weight. She's already lost 2 sizes in her clothing and she knows the rest of the physical fat is coming off. Not any big deal! How can this be? It's because she got a weight loss mindset.
Listen now!
Weight Loss Struggles = GONE and Sex Life = Awesome!
Kathy from Montana Wow, what if you could release all of your struggles with your overeating, sugar addictions, and your struggles to lose the weight and keep it off, AND improve your sex life in your marriage at the same time?!
Click the player below to hear what Kathy has to say about going from a lump of coal to a diamond!

She Couldn't Believe SHE Could Succeed with The Inner Self Diet
Sophia from NYC  If you have a challenge believing that YOU can have the success that all of these people are talking about on this page and the success that all of these real-life people have written about on this page then listen to Sophia.
She had a hard time believing that SHE could really succeed with The Inner Self Diet because she was afraid of being disappointed. But take a listen to what she has to say about her RESULTS.
Click the player to immediately hear what Sophia has to say about releasing all of her food obsessions and getting struggle-free weight loss.
37 Years of Yo-Yo Dieting GONE After Doing the Proven Steps of The Inner Self Diet
Nancy from NJ  Nancy struggled for 37 years with yo-yo dieting and compulsive overeating and you'll hear her share in her audio testimonial that today she has a whole new perspective on herself and all of that struggle is GONE. Yes, she'll share that with you along with sharing her message for you: "Do The Inner Self Diet now."
Click the player to listen to Nancy yourself!
The Inner Self Diet

™
NOTE: JoLynn's step-by-step proven System she founded used to be called the Stop Hiding Behind The Fat journey to permanent weight loss. Therefore on some recordings you will hear her and her inspiring clients speak of The Stop Hiding Behind The Fat process.
Today JoLynn's proprietary step-by-step proven System is called The Inner Self Diet™. This is the same step-by-step System that JoLynn has been mentoring her clients through for years, simply with a new name.
Today's System includes an even higher level of accountability for her clients' daily action steps with their Inner Self Tools, which is giving them quicker and even better results with The Inner Self Diet™, The Key to a Weight Loss Mindset.
Why is a weight loss mindset a necessity for struggle-free weight loss success?
Because your Mindset is where 90% of your success (or your failure!) comes from! As long as your mindset is F.A.T. then you will overeat and be overweight. You cannot buck the current of a Fat Mindset by continuing to do only 10% of the solution to the body of your dreams. What's the 10%?
Only 10% of success in weight loss is diet and exercise. Ninety percent of the game of lasting success with your weight starts on your inside, in your Inner Self. 90% of permanent weight loss is all about your MINDSET. You know that your current mindset is F.A.T. because you can't stop stuffing yourself and you cannot lose weight and keep it off. If you already had a weight loss mindset, you would not be reading these words.
If you already had a weight loss mindset you would be out and about in your LIFE, living it up, going for your dreams, loving your body, enjoying food in a healthy way, and feeling good now. You would not spend time reading these words if you were already naturally slender with a weight loss mindset (actually if you were a naturally slender person you'd have a Fit Mindset, since you'd have no need to lose weight!).
Mindset is the key for success in any area of your life however when it comes to your weight it's very evident when you do not have a weight loss mindset. You just can't hide it. The whole world can see it since the Results of your F.A.T. Mindset are evident on your butt, stomach, thighs, you get the picture. You just can't hide that you have a problem with your mindset because it's the Fat Mindset that keeps you stuck in the rut with emotional eating, and packs the pounds on your butt and thighs.
Your Next Step
As you imagine yourself experiencing the same results you've listened to in the audio interviews above, do you feel excited, relieved, and full of joy?
As you step into your future self who is already living in her ideal body and has all of the qualities you deeply desire for yourself (i.e.: Stellar self-confidence, high self-esteem, a healthy relationship with food, freedom from the emotional eating and food obsessions, and more)… do you firmly believe that you can really become her? If only you had the proven steps to do it?
Does it make sense that if you could have done this alone, then you already would have?
If you feel thrilled when you imagine getting the results you heard JoLynn's Inspiring clients speak about in their audio success interviews on this page, then take the same first step that they did: Click here to take the first step towards applying for a complimentary Weight Loss Discovery Session.
This is for you if you would love to stop asking yourself, "Why am I so smart and successful professionally but I can't lose weight?!"
This is also for you if you are Serious about leaving all of your food and weight struggles behind so that you can finally have a body that matches the success you are already living in the other areas of your life, especially in your work life (this shows that you can take action!).
Get a Weight Loss Mindset, Heal your Inner Self, and finally make weight loss easy for yourself! It's not hard to do when you have the right coach in your corner who already has the proven system that works.
No thanks. I've listened to the amazing, inspiring audio interviews on this page of real-life women JoLynn has coached to struggle-free weight loss but I don't want to end my food and weight struggles now. Take me to the page of this beautiful website where I can read loads of struggle-free weight loss testimonials instead of listening to audio interviews (click here).