Recently I wrote about the fact that I like to watch Dancing with the Stars while I'm on the treadmill because I gain so much motivation from it. The dancers are at a peak level of fitness, and watching them gives me the motivation to keep going with my own exercise and weight loss routine. Today, I have another show to recommend to you (see, all TV isn't bad! 😉 ). I've been watching it since it's first season on Bravo tv, a show called "Work Out".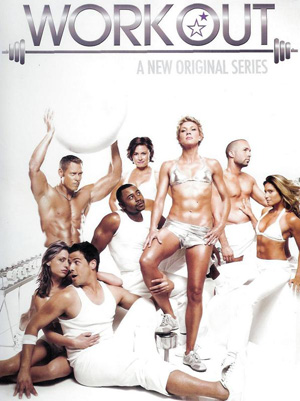 It is a reality show, set in a gym/spa in Beverly Hills, California. I will tell (or warn?) you that there is a lot of drama, and some episodes are more about the Sky Sport & Spa gym owner's (Jackie Warner) life or the trainers' lives than about working out, but I do gain motivation from watching the clients that come into the gym. The show documents the trials and tribulations of several clients who are struggling with weight loss and fitness, and how they succeed or stumble in reaching their goals.
One of my favorite episodes (episode #205 on Bravo's site) was when some of the trainers and clients took a trip to Lake Arrowhead where they ended up meeting with an eating disorder therapist. The therapist asked them some excellent questions about why they eat emotionally, and how (and why) this pattern started for them.
Work Out is in its second season now, and from what I can remember of the first season, this one is including even more footage of the spa clients; I recommend checking it out. Additionally, the trainers are in excellent shape (except for one of the guys, who gets picked on about it), which gives me more motivation to get my own workouts completed.
Work Out is on Bravo, Tuesday nights at 10 EST, and you can often catch marathons of the show on weekends (Bravo does this with many of their shows). I don't know if they will be showing season one again on TV, but it wouldn't surprise me if they did; you just have to keep an eye on the schedule. 😉 I hope that Work Out can add some positive motivation to your desire to lose weight, shape up, and stay in shape. Enjoy!
Watch "Work Out" and Get Motivated!
Comments
comments