Ok, am I losing all credibility by admitting that I watch Dancing with the Stars? I certainly hope not, but either way, I stand by my statement because I find this show to be highly motivating!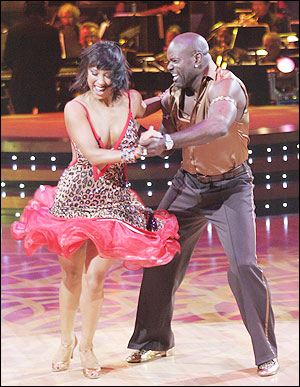 Last night I was on the treadmill and had Dancing with the Stars on. I was inspired watching the dancers and their routines because the dancing is so physically demanding.
The professionals are in extremely good shape with toned and fit bodies, as well as some of the "stars" (of course the athletes, Apollo and Laila are in outstanding shape). How could it not be motivating to be working out myself and visualizing looking like that?
While I'm not saying that I will necessarily create the body of a professional dancer, it doesn't hurt to visualize this. Could I do it? Yes, I believe I could, especially with the help of a professional trainer. Will I? I don't see myself doing this today because of the time commitment involved. One way that I use this show though, is to erase any excuses that I come up with to try and avoid working out!
I realize that I am more than able to fit in at least 5 days a week of paced walking (minimum 30 minutes each), as well as toning and stretching exercises (minimum 2 days a week, approx. 30 minutes each session), and the 5 rites each morning (approx. 20 minutes at most). For each of these exercises I do make it a priority to block out the time to do them.
I still like to visualize having the body of a professional dancer, and I know that I can get pretty darn close. And, if watching Dancing with the Stars gives me more motivation to keep going on my treadmill, then I'd say that it's a positive influence on me. 🙂
Try this yourself the next time you are looking for some motivation: watch Dancing with the Stars and see how motivated you can get. They even have a link on their homepage to all of this seasons episodes so you could watch it anytime before working out.
Get psyched about working out by visualizing your perfect, fit body. While it is their entire life, if they can devote almost all of their time to their dancing and training, I bet that you could make yourself a priority in your life and schedule your time out for exercise.
Comments
comments