What's The Number One Thing that Keeps You Struggling with Food and Your Weight? It's very simple: It's YOU!
Yes, when you choose to keep chasing food diets but you haven't taken action to heal your emotional eating, binge eating, and self-sabotage, then what are the Results you're getting?
The Number One Thing That Keeps You Struggling with Food and Your Weight
When you keep trying to Go It Alone, telling yourself that "Tomorrow will be different" or "Monday I'll finally do it" then what do you end up with? How many years do you continue to struggle?
As long as you avoid getting the coaching you desperately need in order to make weight loss easy and fun, you will continue to struggle. Hey! I don't say this to scare you, it's just How It Is. It's exactly the same with anything in life that you need help with in order to get the stellar results you seek.
For example, if the transmission in your car went out, would you really expect that YOU could fix that on your own? Really? So then why in the world do you think that you can heal your binge eating once and for all when you don't have the knowledge or know-how to do it? Where are your tools to transform what is 90% of your problem today?
What's ninety percent of your problem? It's your mindset. Actually, it's a bigger problem than your mindset, it's your Inner Self, which encompasses your thought patterns, beliefs, old memories, self-image, self-esteem, fears, emotional patterns, and so much more Inner Weight that you're carrying around with you every day.
How do you solve all of this when you don't know what you don't know? You don't! This is why all of the smart people hire a coach. They get the coaching they need to get it done and get on with their life.
YOU Are The ONLY One Holding Yourself In Struggle with Food and Your Weight
Yes! You are the only one who is holding you in struggle with food and your weight. No one and no thing outside of you is "doing it to you". This is GREAT News!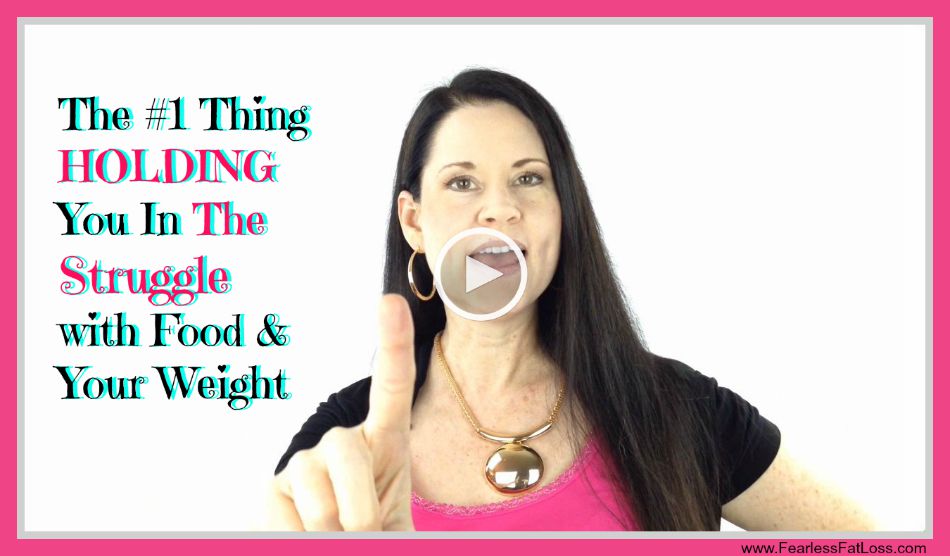 The Good News about the fact that you and ONLY you are the one who holds yourself in the struggle is this: No One Else must change in order for YOU to get what you want. This is fantastic news! This means that your husband, your children, your parents, your clients, the fast food industry, the processed food industry, 7-11, none of these things and none of these people need to change for YOU to achieve permanent weight loss.
All you need to do is transform yourself, on the inside, to make it super easy to lose weight on the outside. This doesn't have to be hard to do either! It's easiest when you hire a professional permanent weight loss coach who already has the proven system for success. Then, just follow the steps to permanent weight loss and you won't struggle any longer with food and your weight.
If you're serious about releasing all of your food and weight struggles now then click to apply for a complimentary weight loss discovery session with me! It's your first step towards struggle-free weight loss.
Share this post and video with your friends using the social media buttons on this page. THEY deserve to achieve struggle-free weight loss too! (I guarantee you have friends and followers who desperately need this free inspiring information. How do I know? The CDC states that over 78 million adults in the USA are overweight or obese. So, your friends will Thank You for sharing!)