What if you could declare your independence from the fat?
What if you could completely break free of your emotional eating, binge eating, late-night stuffing and food obsessions?
What if you could drop the fat and keep it off?
All of this is possible but you've gotta do something radically different in order to get radically different results. Sorry to say that a new food diet is just not going to cut it.
Declare Your Independence From The Fat
In today's video I'll share 3 steps with you that you need to take now if you are serious about declaring your independence from the fat (yay!!).
NOTE: While I recorded this video during the annual 4th of July holiday period in the United States, if you are outside of the USA or if you are watching the video at any time of year except the 4th of July, the tips I'll give you still apply. There is no right time to declare your independence from the fat but the only way you will succeed permanently is to go about it from the inside out. This is exactly what I do with my coaching clients in The Inner Self Diet. In fact, three more exceptional women just graduated The Inner Self Diet and they are extremely inspiring.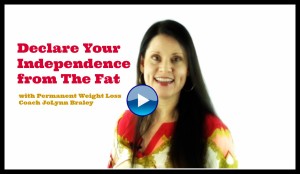 One of my permanent weight loss coaching clients went from being depressed for over 25 years to feeling the best she's ever felt, having an easy time making the healthy choices, as well as healthy improvement in her relationships.
Another stopped the binge-purge cycle, got unstuck, dropped 10 pounds (she admits that at most she was only 15 pounds over her leanest weight as a fitness professional) and said that The Inner Self Diet is the only thing she's ever done that addressed the emotional issues. What you always see out there in mainstream diet world is "eat this don't eat that and get to running!" While it's obviously important to live a healthy lifestyle (we all agree on that!) if you don't heal the root of your emotional issues that drive your emotional eating then you won't succeed permanently with your weight.
And then, the third graduate of The Inner Self Diet not only dropped 15 pounds of fat with ease but most importantly she got unstuck in her life, and of course got unstuck with her weight. She stopped emotional eating, she is feeling great about herself, AND she even stopped smoking as a result of The Inner Self Diet! This is so inspiring to me!
I asked Juanita "How the heck did you stop smoking?!" and she said that as a result of The Inner Self Diet, she simply didn't want the cigarettes anymore. What's even more interesting is that The Inner Self Diet is not advertised as a solution to stop smoking, but of course it works for that too because smoking is only a behavior, just like emotional eating is a behavior, and behaviors can be changed.
These three exceptional women are only a few of the many inspiring clients I have had the pleasure of mentoring through the proven steps of The Inner Self Diet. You can read more testimonials of weight loss success here and listen to some weight loss success story audios here!
When Exactly Will YOU Could Declare Your Independence From the Fat?
While the results my clients have achieved are amazing and inspiring, they didn't get these results by telling themselves they'd "do it someday" and unfortunately, that's what most emotional eaters and overweight strugglers do: they keep on telling themselves they'll "Do it someday", after the 4th of July, after Labor Day weekend, after Halloween (I can't stop eating Halloween candy so I can't change now!), after Thanksgiving, after Christmas, after the New Year ("New Year's resolutions don't work anyway, I'll just wait until someday to change…"), after Valentine's Day ("Oh, I'm addicted to chocolate and don't want to miss out on Valentine's Day! I'll lose weight someday….") after Easter, after bikini season arrives, and then you're right back to the 4th of July.
As you can see, Someday Never Comes. The only time you have is now,  so what exactly is stopping you from declaring your independence from the fat? Remember, you must 1) make the decision 2) have a proven action plan that is 90% about transforming your Inner Self, only 10% is about healthy diet and exercise and 3) hire a professional coach to help you make it super easy to end your emotional eating, end your binge eating, end your self-sabotage and whiny butt excuses so that YOU can get the results of easy, permanent weight loss.
Your Next Step Towards Freedom
If you already know what you need to do to drop the fat BUT you're unable to stick with it, lose weight, and keep it off without a fight, then reach out for help now by applying for a complimentary one-on-one discovery session with me! This is for you if you are serious about putting an end to your excuses so that you can permanently release the fat and do it without struggle. Then you'll be able to stop asking yourself that question you keep asking yourself over and over again: "Why am I so smart and successful but I can't lose weight?!" If this is YOU then click here to apply now to take your first step towards permanent success with your weight.