Monday, March 7th, 2011 at 8:52 pm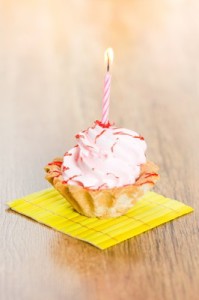 It's been four years since Fearless Fat Loss was born on March 7, 2007 and today Fearless Fat Loss gets cake! Very exciting.
Why is this so exciting? Because back when I wrote and published my very first post here at Fearless Fat Loss, "How to Stop Perfectionism from Derailing Your Diet" I wrote about dieting and food addiction in that article. After that I went on to write many posts over the following couple of years here at Fearless Fat Loss that essentially made food out to be "the bad guy".
Well guess what?! This is the result that making food "the bad guy" got me back then: a loss of a few pounds, a regain of those pounds, and staying stuck at a size 12 (even though I was successfully coaching others to success!).
Yes, it's true – I was still stuck myself because while I'm fabulous at helping others get what they want, I had to get objective help for me so that I could get unstuck. And that had nothing to do with the food…
Food Is Just Food
Making food "the bad guy" was not the permanent solution to my past food and weight problems and focusing on food, making it "the bad guy", will never work for you either. The permanent solution to your food and weight problems will never be found in a diet. (Hey, if a healthy diet/lifestyle program were the solution, then all you'd have to do is DO it…and then why would anyone be overweight?)
Continue reading "Four Years (and Cake!) at Fearless Fat Loss" »