This former emotional eater lost over 11 pounds struggle-free using The Inner Self Diet (yay!) and this is just the beginning for her! So much more Good Stuff is up ahead for Andrea, while she's already having fun losing weight now! Watch Andrea's video above and get inspired by her success! (NOTE: Andrea says in the video she's lost 6 pounds…. well that was at the time she filmed this video! Andrea has lost 11.3 pounds as of April and OVER 8 inches. But by the time you are reading these words she's lost much more, and depending on the date, she may already BE at her goal weight. All struggle-free.)
You see, Andrea used to be super stuck with her weight, not because she didn't know WHAT to do (she has a Master's Degree in nutrition!) but because she just couldn't get herself to DO it. She was stuck in "exercise procrastination" and excuses that stopped her everywhere she turned. She couldn't figure it out though because it didn't make any sense. She had so much knowledge and know-how about WHAT to do to lose weight, be healthy, and get fit, but she was not able to get herself to DO it.
Former Emotional Eater Lost Over 11 Pounds Struggle-Free with The Inner Self Diet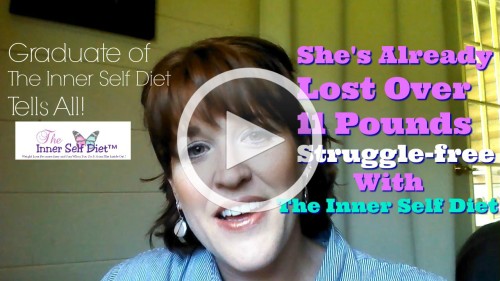 If you can relate you're certainly not alone in your struggles. Right now as you read these words, millions are struggling with emotional eating just like Andrea used to struggle.
Thankfully she didn't hold herself in that struggle but instead she got the coaching she needed. Andrea got the help she deserved. And now she's easily on her way to her ideal weight while having fun along the way. No more self-sabotage and no more excuses!
But what about YOU? While I'm certain that you are celebrating Andrea's outstanding success (I know you're happy for her!), you want the same success for yourself. It's always nice to see others succeed, while it helps you to increase your belief that there really IS a way out, but you want more than   The Good News is you don't have to STAY stuck! There is a way out.
If you are serious about putting an end to your ongoing food and weight struggles once and for all so that you can STOP wondering "Why am I so smart and successful professionally but I can't get my weight under control?" then start with the same first step Andrea took: Apply for a complimentary weight loss discovery session with JoLynn. Click here to get started now.
Comments
comments