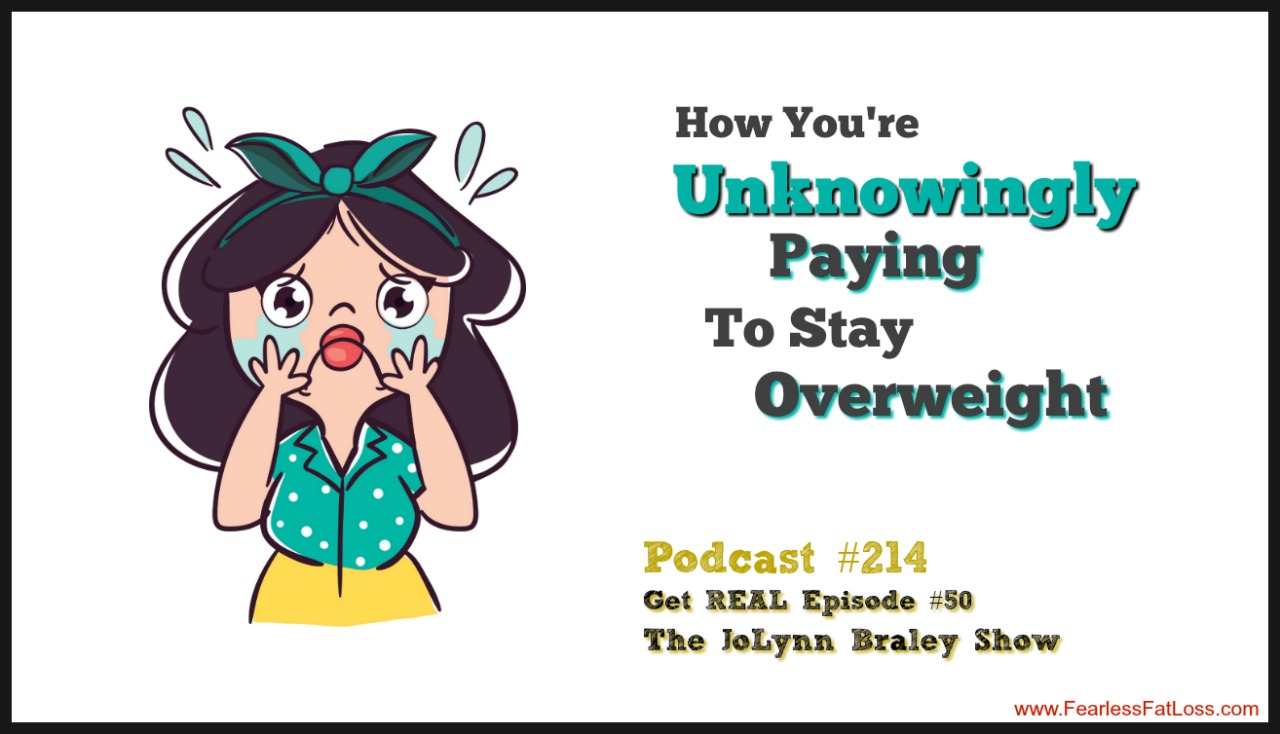 If you're like the majority of the millions of people who are struggling to stop overeating and lose weight permanently, then you think that you're saving money by continuing to struggle to lose weight by yourself. What's interesting is that there's a lot more to the story so in this week's best weight loss podcast I'm speaking about how you are unknowingly paying to STAY overweight.
Say what? How could you unknowingly be PAYING to STAY overweight? Who would DO such a thing?
I know, it sounds crazy, doesn't it. But this is exactly what millions of overweight emotional eaters are doing. It's what millions of binge eaters stuck in shame are doing. It's what millions of out-of-control compulsive overeaters are doing right now as they isolate in their pain and inability to stop eating. The addiction is very strong and it tells you that you're saving money by refusing to invest in yourself to get the professional coaching you need to fix the problem.
But the problem only gets worse. I have a real-life example to share with you in this week's episode of The JoLynn Braley Show.
Free Weight Loss Podcast at The JoLynn Braley Show
In this episode of The JoLynn Braley Show:
How you are unknowingly PAYING to Stay Overweight (Ack! Not Fun!!)
Discover how the addiction keeps you stuck, making you think you're saving money by continuing to struggle alone…
Find out the quickest way to end your emotional eating, end your binge eating, and lose weight for good!
Grab pen and paper to take full advantage of this free weight loss podcast. 
Be sure to subscribe on iTunes to The JoLynn Braley Show and get immediate access to each new episode on Thursday. Click Here and LIKE our Facebook Page and get a "shout out" on the show!

If you don't have an iTunes account yet, you can easily click here and sign up FREE.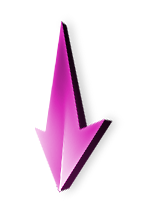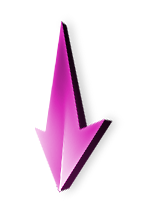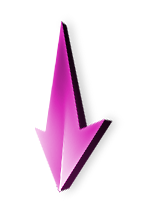 How You Are Unknowingly Paying To Stay Overweight [Podcast #214]
Podcast: Play in new window | Download (Duration: 57:12 — 52.4MB)
Subscribe: Apple Podcasts | Android
Tune in for next week's episode: How to Lose Weight When You're A Food Addict
Hey, if you're a food addict you're not alone. It's very easy to have a food addiction nowadays because food is an acceptable addiction, compared to alcohol, gambling, or drug addiction. Although…is it REALLY an acceptable addiction? What about how you FEEL emotionally about your fat? How often do you worry about what others think of how you look? How draining is it to stay overweight?
So maybe food addiction is more costly and unacceptable than you previously thought. More will be discussed on next week's episode of the best weight loss podcast around! That's the JoLynn Braley Show – the free weight loss podcast that cuts to the chase.
Subscribe to The JoLynn Braley Show in iTunes so that you don't miss any of the Free, weekly episodes as they come out (It's FREE to download iTunes and subscribe to The JoLynn Braley Show – Click Here to get started).
After you subscribe in iTunes please leave the show a TIP in the show's Virtual Tip Jar. This is how you can Tip Us and no money is required!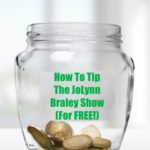 How to Tip The JoLynn Braley Show: Leave us a rating and a review in iTunes (click here to go there now). Simply log in to your free iTunes account and then subscribe to The JoLynn Braley Show.
Help out those who are overweight and struggling to feel better about themselves! When you rate the JoLynn Braley Show and leave your written review then you'll help all of those other people to find this show. Then when they hear this Free weight loss podcast they'll learn that they aren't lazy and they can feel better about themselves. They'll learn that the real problem is their mindset, and their mindset can be changed!
Thank you in advance from all of those people you are helping when you rate and review The JoLynn Braley Show in iTunes. Your rating and reviews help them find us and we appreciate you leaving us a virtual tip in the show's tip jar. Thank you!
Besides being available for FREE subscription on on iTunes, you can also subscribe to The JoLynn Braley Show on Stitcher or iHeart Radio, Google Play, and it's available for subscription in some other podcasting subscription services too! If yours isn't listed here then just search for The JoLynn Braley Show in the podcast subscription service you're using now.
Here's the Link to Shannon's Video!
The month of January and in last week's podcast and also in episode #211 I said that after we got Shannon's video published that I'd give you a link in these posts here on FearlessFatLoss.com so that you could watch her video. Well here's the link to click so that you can watch Shannon's video and get inspired by her struggle-free weight loss now!
By the way, if you didn't listen to the January podcasts and don't know who Shannon is, she's one of my coaching clients who recently graduated The Inner Self Diet. She's losing weight struggle-free now and her video is very inspiring, especially when she shares that she would NOT have believed me if I'd told her in the beginning that she could have all of the struggle-free weight loss results she is living today!
If You Want to STOP Paying to Stay Overweight and Lose Weight For Good!
What if you really could stop struggling with food and your weight?
How will you feel six months from now if you're still in the same old struggle with your eating and your weight that you're living today?
If you don't have a holistic mind-body proven system to end your food and weight struggles now, then HOW exactly are you going to do it?
In how many multiple ways would life improve for you if you could just fix this one problem that plagues you endlessly?
If you'd love to stop wondering why you're so smart and successful professionally BUT you can't fix your out-of-control eating and overweight struggles on your own then click here to apply for a one-on-one complimentary weight loss discovery session with me. Serious applicants only need apply. (if you'd prefer to keep paying to stay overweight then please do not apply for this free discovery session with me)
This is for YOU if you're serious about ending your ongoing struggles to stop emotional eating, stop binge eating, and stop struggling. This is not for those who are unwilling or unable to take a good look at themselves and stop making excuses for their failures to succeed.
Thanks for sharing this free weight loss podcast post with your friends and followers on your favorite social media platforms! Just use the buttons below this text here. Your friends deserve to know they're unknowingly paying to stay overweight!
Comments
comments