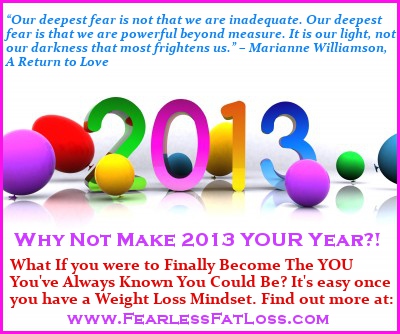 Would you love to make 2013 YOUR Year to Shine?
Are you someone like me who has a calling and you deeply desire to Make A Difference in the world?
Perhaps what your calling is is to be the very best mother you can be, meaning that YOU show by example what it's like to live IN the body of your dreams, without struggle.
Or perhaps what the phrase, "Going For It" in your life means to you is that book you've been meaning to write. But instead you keep being held back by your F.A.T. MINDSET.
That's a Mindset filled with Fear Attracting Thoughts, which is a perfect match to an overweight body and overeating behaviors.
What's exciting is that once you get a weight loss mindset, then it's easy to lose weight! Then you have no more struggle with food, with your body, or with your weight. Exciting!! With a mindset that matches the body you want on the outside, then it's not a problem for you to live healthy and fit, consistently, with ease, and without deprivation.
How To Make A Difference In 2013 by Making It Your Year to Shine!
Here's a recap of today's podcast. Remember, the show airs weekly on Thursday on iTunes. Click here to subscribe now.
Recap:
The movie Larry Crowne inspired today's topic.
If you're a purpose driven person you want to make a difference during your life!
Your F.A.T. Mindset will hold you back.
Problem of Mindset AND body.
Fear Attracting Thoughts.
Excuses "I do it when I'm thin".
Graduate (of The Inner Self Diet™) Kathleen says, "Life just keeps getting better and better!'
Graduate Candy says, "I came to JoLynn to get a weight loss cure and what I got was a life cure!"
The Inner Self Diet™ is JoLynn Braley's step-by-step proven System to struggle-free permanent weight loss through a weight loss mindset.
The best way to make a difference is to become the YOU you've always wanted to be.
Graduate Katie transformed her marriage by getting a weight loss mindset (in her words her husband became her "love slave"!)
Nobody else in your life needs to change. YOU are the only one who must change.
Life and weight loss becomes easy once you get a weight loss mindset.
Shout Outs to 54 new people who LIKED The JoLynn Braley Show on Facebook!
Question of the Day: 
Each show will include a Question of The Day or a Tip of the Day. This show included a question of the day along with a Bonus Question (you need pen and paper to answer them!). You'll hear them on the episode!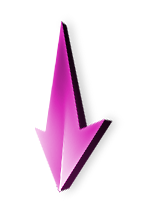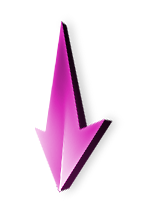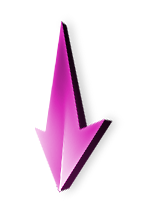 Podcast: Play in new window | Download (Duration: 26:15 — 24.0MB)
Subscribe: Apple Podcasts | Android
Tune in for Episode 4 next week:
Get Real (1): What Are Your RESULTS?



Each month I will air at least one Get Real episode. These episodes are specifically focused on RESULTS because here's the truth: That's all that matters!
You can keep on talking for the rest of your life but what are the Results you're getting from that talk?
Getting Real with yourself is highly important if you ever wish to experience a true transformation in your life.
Core Transformation on the Inside, in your Inner Self = Results on the Outside!
Comments
comments