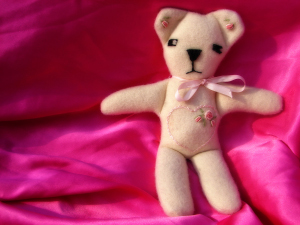 You don't need me to tell you that the first ingredient in that box of chocolates is sugar, and you already know what that does to you: gives you cravings for more, makes it hard to stop with just one, gives you mood swings and provides no nutritive value, besides the fact that it will sabotage any weight loss efforts that you're making today. Certainly if you're addicted to sugar, you'll want to avoid those chocolates at all costs.
Now if you can stop with just one piece of chocolate, then you can still use these 10 suggestions for celebrating a happy Valentine's Day without chocolate. I mean really, isn't the day supposed to be about celebrating the love you have for that special someone in your life? Why does every celebration have to be about food, and unhealthy food for that matter?
Additionally, if you're single, instead of drowning your sorrows (that is if you're unhappy about being single), my suggestion is to start loving yourself today. If you would like to lose weight the best thing you can do is love yourself as you are now and release all criticism so that you can start treating yourself like you treat your loved ones – you wouldn't ever suggest to a best friend or family member that they eat a bunch of chocolate to make themselves feel better, would you?
Without further ado, here are my 10 suggestions for celebrating Valentine's Day with your sweetie, forgoing the chocolate and sugar-filled desserts:
Get a couples massage – Make a call now and set up an appointment for a couples massage in your area. If you don't know a place that offers this ask your co-workers and friends if they know of one. You could also call up a reputable masseuse to inquire if they have two massuers who will massage you and your loved one in the same room. If there's no one in town who offers this service, then you could make 2 simultaneous appointments at the same establishment. A professional massage is one of the best gifts you can give someone you love.
Play a board game – Whatever happened to turning off the TV and having some one on one personal interaction with the love of your life? How about a game of Scrabble, or if the kids are at with their grandparents, play a romantic board game to liven things up!
Go ice skating – If it's available in your area, go ice skating. If it takes 1/2 hour to drive there, that's more time you can spend together one on one. Ice skating is a very romantic activity, and even more fun if you know how to skate (LOL). But if you've never done it before, why not try something new? And instead of going for hot chocolate for a warm up, buy some mocha coffee beans (whole is better to grind at home, or buy fresh ground) and make a pot of that to pour in a thermos before leaving home. The coffee beans don't have sugar in them, unlike the flavored coffees you buy in a small tin.
Go for a minimum 30 minute walk – and hold hands the entire time. Make an agreement that you won't talk about work or the kids, but will enjoy the fresh air and each other. If you feel like talking that's great, but make it about each other like you used to talk when you first met.
If you have a fireplace – Turn off the lights, light a fire (TV is off!), and reminisce about why and how you fell in love with each other.
Over a healthy dinner – Make a point to talk only about each other, your goals together, your dreams, anything that doesn't include work or the kids. This is just about the two of you and your relationship. Remember to make this a healthy dinner, whether dining in or out: plenty of veggies minus the butter and salt, lean protein, fresh fruit, and sans refined sugar.
Rent a movie – But not just any movie, the first one you watched together as a couple. Send the kids to grandma's house, put a fresh fruit plate together with some sparkling water to drink and remember what it was like when you first met each other.
Give each other a foot massage – Light some candles, play soft music that you both like, and get out your body oil for a sensual foot massage.
For you men out there – Splurge on a sexy bra for your girlfriend or wife, one that fits her exactly as she is now. No more waiting until she loses weight (like she might say), do this now! Every woman feels sexy in a pretty, new bra (that fits!).
OK guys, this one is just for you – Women, go out and get your guy's car detailed. Men love their gals, but often their car or truck can rank right up there along with ya. This is something that you can do for him for Valentine's Day that will bring a sure smile to his face. Just ask to switch cars for the day so that you can surprise him, it will be a lot of fun.
Here's one more thing: if you are just dying for chocolate but know that you don't want that sugar drug back in your system, then how about having a J?calat Lärabar. They are available in 4 flavors: Chocolate, Chocolate Mint, Chocolate Orange, and Chocolate Coffee. I haven't tried the Chocolate Orange but I have tried the other 3 and the Chocolate Mint is my favorite.
They contain absolutely no refined sugar and do contain organic cocoas, dates, and nuts (ingredients differ per flavor). I mentioned this in yesterday's post, that I bought a box at Costco that contains all flavors except the Chocolate Orange:
Whether you use one of my 10 suggestions or come up with one of your own, remember that the focus of the day is your sweetie, and I don't mean sugar. 😉 Make the day a fun day for you and your loved one, and make it that much sweeter without putting the focus on food and refined sugar.
Comments
comments