To complete this week's focus on healthy 6-Week Body Makeover recipes that will help you get off of the addictive foods (foods containing refined sugar and flour), I thought I'd share a recipe with you that sounds like a dessert, but actually works perfectly for a pre-workout meal. Oh, and it also gives you a little "sweet" to try.
This is basically an easy recipe to make and it's sure worth it in the end. The reason I say it's "basically easy" is because you do need to get out your mixer and whip up the egg whites, but that just takes a couple of minutes.
The recipe calls for cinnamon but I like to use pumpkin pie spice instead and I've also used apple pie spice before.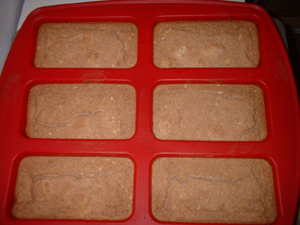 I make this in silicone bake ware
; the picture on the left is how it looked fresh out of the oven. Now the recipe does call for Splenda, but you could substitute Stevia if you'd like. Also, if you don't like pineapple, you could substitute the same amount of strawberries, blueberries, peaches, or raspberries instead. I've only made it with pineapple and I really like it like that. 😉

The only thing about those neat little "loaves" (and since this is made with ground oats that you grind yourself – not flour), it does fall apart just a little bit when it's time to serve it, but that's fine with me; as long as it tastes good and it's a clean recipe (no preservatives, refined sugar, flour, salt, or unhealthy fats), then that's what I want. Also, this is actually one of the dishes I eat on the 6-Week Body Makeover to lose weight – you can see that this is definitely not a diet!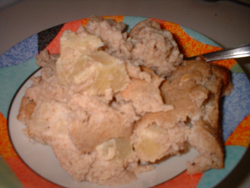 If you try this, come back and leave a comment to let me know how you like it!
6WBMO Pineapple Upside Down Cake – YUM!
Comments
comments