So what's a major part of eating clean? Eating your veggies, right?! Yes, it sure is, but you already knew that. 😉 So what I'm curious about is whether or not you ever struggle with getting in your daily allotment of clean veggies?
You've probably heard all the tips on how to get your veggies in every day including "hiding" them in the meals you cook
for your family to ensure everyone is eating a healthy, balanced diet.
For myself it's easiest to get in my veggies by following the 6-Week Body Makeover way of eating because based on your body type you choose the veggies you like from a list of options. But have you ever heard anyone say that they had a hard time eating clean because of cost?
High Cost?
In my experience I spend double the amount on junk food and processed food when I've been eating that stuff as compared to how much I spend when I'm eating clean. But what about growing your own veggies – planting some seeds, giving them some water and love, and watching them grow. I'd say that sure is a cheap way to get them into your daily diet.
I've Had A Plan
Several months back I mentioned to you I'd decided that for the first time I would be planting my own vegetables in the spring. Now that spring is here I've got to get moving and get planting. I'm really excited about this because it will be fun and there's that added bonus of some cheap and healthy food. For $.99 to $1.50 I can buy a packet of seeds and potentially produce many dollars worth of food.
Another option is purchasing plants that give you a head start – it could depend on what you're planting and what time of year you're starting. I was going to purchase tomato and pepper plants but I decided to just go ahead and plant the seed and see what happens.
No Gardening Tips Today
By no means am I a pro at gardening and I don't have any specific tips to pass along to you right now, nor will I be turning Fearless Fat Loss into a gardening blog. 😉 Instead I wanted to share this with you in case the option of growing your own clean eating veggies might also help you stay on the healthy path. And remember that you don't have to own a home in order to plant a garden – you can plant in pots and put them out on a balcony if you live in an apartment. Just pick the kinds of veggies that will grow in the amount of sunlight you have available.
Here's what I'll be Planting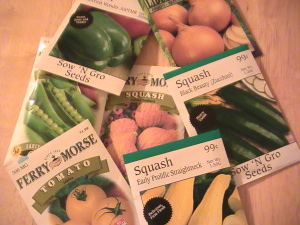 Peppers
Onions
Squash, Summer and Winter
Zucchini
Peas
Tomatoes
Green Beans
I'm really excited about this because it's the first time I've tried it on my own. My goal is to get everything in the ground this weekend and I'll give you an update on how it's going a month or so from now. Also, I can't help but be excited about the cost savings that I'll be reaping just from planting a few seeds and spending the time to tend to the garden and help them grow.
A Bit of Weight Loss Motivation
I threw in a little bit of weight loss motivation for myself because I'm planting peas, which aren't a part of the losing phase of the 6WBMO. So, I'm shooting for being at my goal weight by the time they are ready to be picked this summer – currently I'm 23.5 pounds away from my goal however if I'm not there by the time the peas are ready for harvest then I can always freeze them.
What About You?
Do you grow your own vegetables? If so do you grow them in pots or in a garden? What kind(s) do you grow? And most importantly, do you find that doing so helps you lead a healthier lifestyle than if you didn't grow your own veggies?
Comments
comments