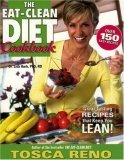 Do you want to eat better but you aren't sure how to make the switch to fresh, whole foods? Do you want to lose weight? Do you want to feel and look better, have lots of energy, and feed your body clean fuel instead of processed, additive-filled convenience foods?
I can tell you from my own experience that by eating a diet filled with lean meats, fresh fruits and vegetables and whole grains, that not only do you lose weight (as long as you exercise portion control), but you also feel just awesome. If you are like me though, you aren't a born cook and you need to have some recipes to follow.
In a previous post I gave you a review of The Eat-Clean Diet by Tosca Reno, a book that I overall recommend (you can read the details in that post), especially if you do not have any problems with eating refined sugar or flour. In The Eat Clean Diet book there are some recipes included, however in addition to that book there is a separate Eat Clean Diet Cookbook available from Tosca, which you can easily guess, is full of clean eating recipes! (please note: the publisher asked me if I'd like to review this book (and sent me a copy) since I've talked about eating clean myself before, however I am giving you my honest thoughts about it).
The Eat-Clean Diet Cookbook contains over 150 clean-eating recipes that are easy to make and easy to understand. Tosca teaches you how to make such tasty dishes as Clean-Eating Muesli, Chinese Chicken and Rice, Pad Thai Clean-Eating Style, Blueberry Crumble, and Greek Salad. Each of these recipes is made without all of the processed chemicals, additives, and preservatives that you will find in pre-made processed foods, and are focused on using whole, fresh foods that you can buy in the grocery store.
While it's true that you could buy pre-packaged, pre-portioned, pre-made diet foods (I'm thinking of the popular diet plans you see advertised during prime-time TV each night) and actually lose weight, how healthy is that for you? Also, what do you do once you lose the weight; keep buying that diet food forever? To me, it makes a lot more sense to learn how to cook your own clean-eating meals, which gives you a lot more freedom and better health anyway.
Like I mentioned in my review of The Eat-Clean Diet
however, there is something that I would caution you on with these recipes, which only you will know if it is an issue or not: some of the recipes contain sugar and/or flour and if these ingredients cause you to crave more sugar and flour and cause you to overeat/binge, then there are recipes in this cookbook that will not be good for you.
Besides recipes containing flour, I noted the following sugar ingredients in different recipes in the cookbook: sugar, maple sugar flakes, sucanat, agave, organic sugar, organic honey, and brown sugar. If you are addicted to sugar or sugar sensitive, you already know that you need to stay away from all forms of sugar, not just the ingredient spelled "sugar", so you wouldn't be able to use the previous ingredients (same goes for me – I get my "sugar" in fresh fruit, but always include a protein when I eat it).
Again though, if you do not have any issue with sugar cravings or overeating by eating sugar and flour and you simply want to improve your health by getting off the processed foods, then The Eat-Clean Diet Cookbook would be excellent for you. In addition, if you fit that description and have some weight to lose, then if you use portion control along with clean eating then you can do that, too. At the same time, you'll learn how to cook some wonderful recipes with this book, and even how to make a clean-eating Christmas dinner, turkey and all!