At the time I broadcast this Live Periscope we've got approximately 24 hours until the New Year of 2016. Are you last supper binge eating into the New Year because you're already dreading the deprivation of your New Year's Diet?  And Take NOTE! If you're reading this and we're already into 2016, This Topic Still Applies because it's the SAME Behavior you do to yourself every Sunday if you're a last supper eater. You're already doing it 52 times a year!
How to follow me on Periscope and connect with me LIVE! Download the FREE app to your iPhone or Android. Search my name JoLynn Braley in the app and click Follow. Then attend my Live Broadcasts, tell me your name, tap on your phone's screen to send me hearts! It's FREE and it's Fun!
I've gotta tell ya that if you're last supper binge eating into the New Year then more binge eating is what you can expect IN your New Year! Sound depressing? Well, it doesn't have to be another year of yo-yo dieting and binge eating behaviors once you heal your Inner Self and end the struggle.
You see, behaviors are just behaviors and binge eating is a behavior. The Good News is that behaviors can be changed! My coaching clients do it all the time in The Inner Self Diet, even when they start out as out-of-control binge eaters. It works every time.
BUT if you just keep going as you are, without the coaching you need, without the healing your Inner Self needs, then unfortunately that behavior of binge eating will continue.
Are You Last Supper Binge Eating Into the New Year?
Why would you be last supper binge eating into the New Year? Because you made a New Year's resolution to lose weight and you're anticipating deprivation and despair. This is a sign that you're not in alignment with your goal, otherwise you wouldn't be binge eating in your last hours before the New Year!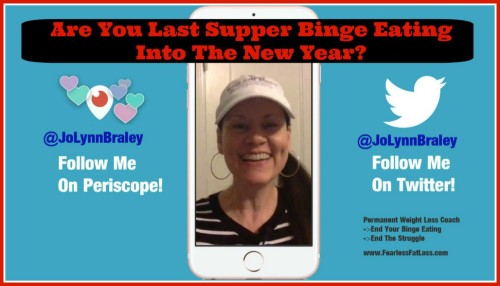 Going further, if you already had a weight loss mindset you wouldn't even make a New Year's Resolution to lose weight. Why? Because you'd already be living a healthy lifestyle. It wouldn't be a big deal. You'd have no need for a new diet in the New Year!
When you're caught up in diet mentality, binge eating, yo-yo dieting and emotional eating imagining complete freedom from your binge eating struggles can be daunting. Something to start with right now is this: click here to enroll in my free weight loss class and you'll receive the replay of December's FREE weight loss class.
Go ahead and do the exercises I give you in the replay of December's FREE Weight Loss Class (while it's still available) to make sure you don't end up at the end of 2016 regretting another lost year without losing weight! Click here to register for the next class now so that you can get the replay of December's Free weight loss class. But don't wait because it's time sensitive!
Comments
comments