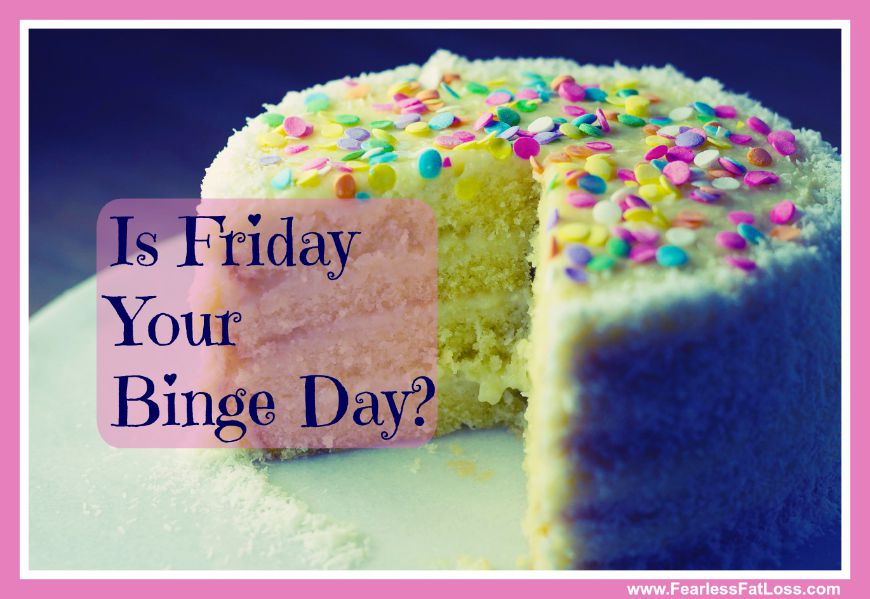 Is Friday Your Binge Eating Day?
Do you tell yourself that the weekend is here so you may as well "Go All Out" and eat whatever you want?
Do you tell yourself that Monday you'll start again? Just as long as you binge eat on whatever you want over the weekend?
The most important question of all: What if you could change your unhealthy lifestyle habits of binge eating on the weekends? How easy would it be to lose weight if you could stop binge eating, stop sabotaging yourself, and easily live a healthy lifestyle?
After all, everyone knows that the ONLY solution for permanent weight loss is a healthy lifestyle, lived day in and day out.
Is Friday Your Binge Day?

If Friday is your binge day, what are the specific results you're getting from binge eating on Friday, Saturday, and Sunday? (we all know that one day of binge eating isn't enough!)
Do you really go back to eating healthy on Monday, or do you only eat a healthy breakfast… and then… if you're honest with yourself, your unhealthy binge eating habits are not just starting on Friday but really what's happening is that you're binge eating all week long?
Have you ever considered what your life would be like if you had NO desire to binge eat? Wowza! Just how easy would it be to drop the fat then?
If there's only one thing you get out of this article here at FearlessFatLoss.com it's this: You really CAN break free of your struggles with binge eating. My coaching clients do it all the time by doing the proven steps of my invitation-only coaching program, The Inner Self Diet.
Your Binge Eating Is Not What You Think It Is
Your binge eating is not about the food, it's not about the sugar, it's not even about the fat on your body. You see, your out-of-control eating and overweight are only symptoms of the real problem, and it's that problem that needs to be healed at the root, so that your binge eating is no more.
Just like Holly who I coached back in 2011. Holly was out of control with binge eating for over 35 years. Nothing she did helped to end her binge eating until she did The Inner Self Diet. I coached her through the proven steps of my step-by-step system, she ended her binge eating, she dropped the 20 pounds she wanted to (she was 20 pounds over her ideal weight) and here's the BEST Part: I talked to Holly this year, 2015, and she's STILL NOT Binge Eating! Yay!!
Over four years later and Holly is still binge free, AND she's kept off the 20 pounds. How COOL is that?!
If you'd love to stop your ongoing binge eating cycle so that it will be easy and fun for you to lose weight then take the same first step that Holly did. Click to apply for a complimentary weight loss discovery session With Me Personally on the phone. It's your first step towards freedom from your binge eating!
Please use the social media buttons on this page to liberally SHARE this post. Here's why: the CDC states that over 78 million in the USA are obese or overweight. What the heck?! That is TOO many people and this also means that you are guaranteed to have social media followers who are beating their heads against the wall right now because they can't stop eating and they want to lose weight. Share this post stat to help them out! They'll thank you.
Is Friday Your Binge Eating Day?
Comments
comments