30 Days of Free Fearless Fat Loss Tips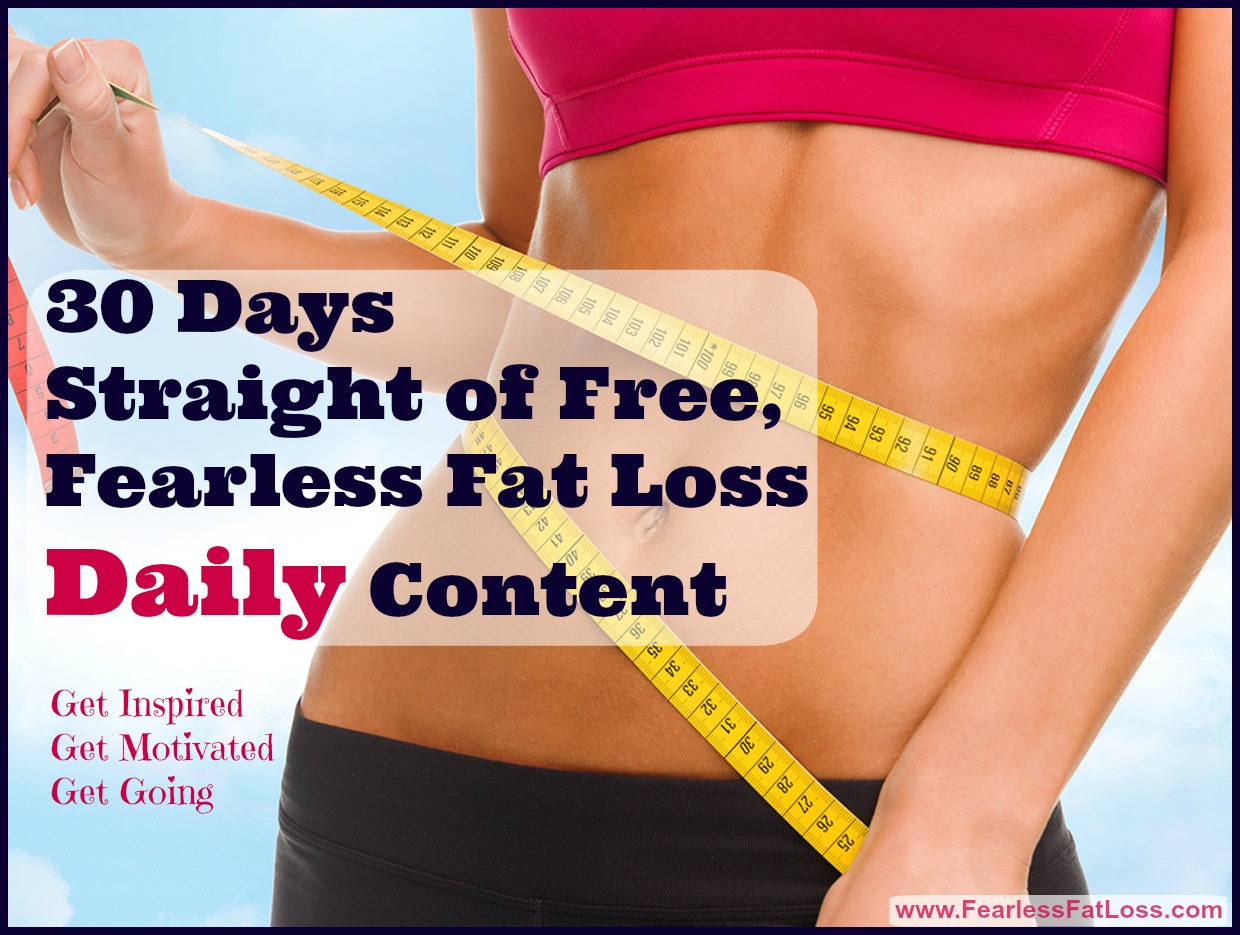 Put on your seat belt because we've got 30 Days of Free Fearless Fat Loss Tips to Help You Lose Weight! These free fat loss tips (and free weight loss tips) are coming up right here at Fearless Fat Loss each day over the next 30 days. In fact this post here is kicking it off! The focus is on your Inner Self because if you never end your inner struggles, then it will continue to be a battle to stop emotional eating, binge eating, and yo-yo dieting. And who wants to lose weight, only to keep struggling and fighting?!
Many of the daily posts will include a video and each Thursday is the standing, weekly podcast of The JoLynn Braley Show, which has been publishing weekly on iTunes since the first week of January 2013.
Why We're Doing This
It's time to put some positive mojo back into Fearless Fat Loss and YOU get to benefit while we do it. You see, Fearless Fat Loss has been a little neglected over the past couple of years on the specific topic of regular blog posts. Testimonials pages here and here have continued to be updated and the homepage is gorgeous after a recent update, but blog posts have mainly been the weekly post on Thursday, which is my podcast I've been doing on iTunes since January 2013.
Why Have the Blog Posts Been So Few?

When I created this site and published my first post on March 7, 2007, I did not have coaching clients at that time. I wasn't a professional certified Master NLP Practitioner in 2007 or a certified Master Consciousness Shifting coach, nor was I certified in law of attraction coaching or in basic life coaching. I also wasn't doing Periscopes six to seven days a week, I wasn't publishing a new videos on Youtube, and I wasn't publishing a weekly podcast! Additionally, in 2007 I didn't have an app in Apple's app store (with another one on the way) and I wasn't doing a monthly free weight loss class either!
Back in 2007 when I wrote posts like this one my focus was more… focused, but just on writing. Today, with everything else I'm doing, with the main focus being on coaching my clients to struggle-free weight loss (by ending their emotional eating, binge eating, food addiction, self-sabotage and yo-yo dieting) the blog posts have fallen by the wayside.
30 Days of Free Fearless Fat Loss Tips
Stay tuned and be sure to check back daily! To be sure you stay updated, why not grab my FREE 5-day e-Course (Click Here to Get It Now). In my e-Course you'll learn how to answer the question "Is Your Mindset Fit or Fat?", and then discover what you can do about it! When you grab my e-Course then you'll also get my weekly ezine, free each Tuesday. We'll send out updates about these next 30 days of free Fearless Fat Loss content so you simply can't lose. Well, you could end up losing a fat mindset, but that would be a Good Thing! Why? Because a fat mindset is a match to a fat body. But that's a topic for another day.
Enjoy these next 30 days of this non-stop daily content here at Fearless Fat Loss. And before you go, do share this post with your friends using the social media buttons on this page. Don't keep this free, inspiring content a secret from your friends!
One More Thing (Only for You If You Want to STOP Putting Off Permanent Weight Loss NOW)
Here's a fact: the longer you struggle all alone, telling yourself that you can "figure it out and Just Stick With it damn it!!" then….the longer you will struggle all alone. Ugh!
What's the Point? The point is that there is another way. There is another way that either you weren't aware of OR you have been denying yourself. The other way is coaching. Yes! When you hire The Right Coach who has the Proven System to end your food and weight struggles in 8 weeks or less, then you'll stop struggling. Then you'll start losing weight. Then you will have the tools to use for the rest of your life so that you can Keep the Weight OFF, because you will have gotten a weight loss mindset.
I've been coaching my awesome coaching clients through the proven steps of The Inner Self Diet since 2009. Every client I've coached (who has simply followed my instructions and done the steps) they have achieved struggle-free weight loss in 8 weeks or less. YES! They end their binge eating, self-sabotage, emotional eating, and yo-yo dieting in 8 weeks or less. They get a weight loss mindset which enables them to easily stick with their healthy lifestyle for life. No more getting off track. No more gaining the weight back. Losing weight without struggle, deprivation, or force.
How to End Your Overeating and Overweight Struggles Now
If you'd love these results for yourself then click here to start the application process for a complimentary weight loss discovery session! This is an opportunity for a FREE one-on-one weight loss discovery session with the expert, JoLynn Braley. JoLynn will help you discover what's really been stopping you personally from losing weight for good, and help you see what you do to change it! Click here to get started now. Please NOTE: This is a Limited Time Offer. Don't delay if you want to stop feeling crappy, stop overeating, and start losing weight without struggle! Click here to get started now.
---
List of 30 Days Straight of Free Fearless Fat Loss Tips
Below are links to the full 30 day series of Free Fearless Fat Loss Tips. This post that you are on right now is Day One.
Click the links below to go directly to any of the daily posts in this 30 days of Free Fearless Fat Loss Tips. Please remember to share this post and all of the posts in this series using the social media buttons you see above and below the post. Don't keep this free weight loss information a secret!
30 Days of Free Fearless Fat Loss Tips to Help You Lose Weight Now
Comments
comments